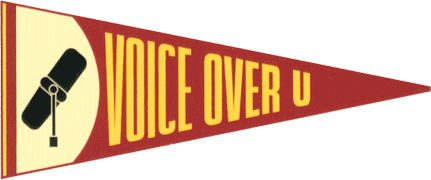 Here's what they had to say about
Sherri Berger and Voice Over U.
Once again, I thoroughly enjoyed your workshop. Your teaching and coaching style is refreshing and very motivating. Many executives and "managers", with whom I've dealt over the years, have historically been uncomfortable when providing critical or potentially negative feedback. Your approach, especially with such a diverse group of participants, is so effective and I really appreciate it.
--- Paul Copeland, Angola, IN,
I booked two more gigs! Twinlab protein powder web campaign and a local TV spot. I made more in two days that I do in two weeks at my day job. All the while, the echo of your coaching was there guiding me through the scripts.
--- Anthony Gettig, Portage, MI
I thoroughly enjoyed working with you and I could sure tell the rest of the group did as well. I must tell you, Sherri, that your ability to challenge and provoke a positive response is outstanding in my opinion. I've played enough competitive sports in my lifetime with some great coaches, and those who could do what you do to create excellence through candor and constructive criticism remain as some of the most inspiring people in my life even today - I certainly see you in that category.
-- Jordan Mark, Angola, IN
In school everyone has a favorite teacher. The one who pays close attention to you, is honest and direct, and challenges your preconceived limits. One who cares enough to make a difference in your life. In the competitive world of voice overs, finding someone like that is equally as rare. I did. And my work is now on the air. Thank you, Sherri, for your guidance, intuitivenesss and instruction. You didn't make it easy, but you made it worthwhile.
-- Kirk Anderson, St. Charles, IL
Thank you for a great coaching session. I've used a couple things we went over and have landed a couple of jobs in the last week! I really like your thought of "just enjoy the words" and I loved the idea of doing the copy with an accent or just over the top to help develop the read and get the mechanics out of the way. My billboarding is even better too...thank you!
--Jennifer Cudahy, Chicago, IL
Just a note to say how much I really, really enjoyed your class! You are a splendid teacher and mentor. It's amazing to see the transformation not only in myself but in the other students. It was such a pleasure to be in your class. I appreciate all the work above and beyond for your students. Had a great time in your classes.
--Chip Grogg, Chicago, IL
Thanks again for another great class. Your feedback was so valuable to me. I'm going to hold onto your words to keep me going! No matter how many classes I take, you never cease to amaze me. It's fascinating to watch you teach...within hours, your students make such progress and really catch on. I love the learning process in your classes...I not only learn on mic, but I also learn a lot by listening to your comments to other students and seeing them improve their performance with your guidance.
-- Leslie Kronish, Chicago, IL
Sherri, you're the best! Thanks so much for all you've done for me, but most of all, thanks for helping me believe in myself! Thanks for a dream that came to be true. You are one very gifted teacher.
-- Ralph Metz, Chicago, IL
Thank you very much for teaching the Lecture/Lab classes. It was a fun and informative series of classes. Iparticularly enjoyed your no BS approach to the business of Voice Over. It is obvious that it is a business you love very much. One last ringing endorsement, if anyone were to ask me if taking your class was worthwhile I would wholeheartedly say yes. Now on to the rest of my career.
--Richard Aspell, Barrington, IL
Your guidance on my demo production and insight on the business have been completely invaluable, only exceeded by your graciousness in the studio.
--Steven Gillam, Chicago, IL
"I'm ecstatic with my new demo tape! You are a fine teacher and producer. It has been a wonderful experience working with you which I plan to continue. You've taught me more than you probably realize."
Your adoring and grateful student,
-- Vicki Kline, Cincinnati, Ohio
I can wholeheartedly and enthusiastically recommend Sherri. I've hired her for private coaching, taken her classes and engaged her for my character and commercial demos. She is a consummate professional who knows the business, is very honest, and will be very direct with you regarding your talent, skills, and where you fit in the industry. She is also terrific at script selection and getting you to do the best read for a spot. I'm already getting gigs. You will do yourself a favor if you use Sherri.
--Bryan Carmody, Chicago, IL
I like your straight forward style.
-- Lucinda Johnston, Chicago, Illinois
I had a great time in the Character/Animation Lab. You are a wonderful teacher, and you impart your experience with a great deal of humor and refreshing common sense. It was such a treat to be in a professional setting and have a taste of the "big time." I enjoyed myself immensely and very much appreciate your words of encouragement.
-- Nick Palumbo, Chicago, IL
Thank you for the interesting and enlightening voice-over lesson. I like your enthusiastic and challenging, yet patient approach to teaching. I made the right decision to work with you on my demo tape.
-- Lee Crooks, Milwaukee, Wisconsin
I really enjoyed The Lecture. The info you provided was succinct, informative and useful, and you delivered it with a lot of passion and enthusiasm.
-- Julie Roberts, Elmhurst, IL
Your class was a revelation! You're incredible! You're the best role model in a world where there haven't been many for women in any industry.
-- Dodie Nichols, Stevensville, MI